Cherry Blossom Holiday Cracker
Holiday Cracker
Reminisce about a refreshing expression of nature and release the magic of the new Cherry Blossom holiday cracker.
1 x 10ml
Regular price
Sale price
£30.00
Unit price
per
Sale
Sold out
Share
Find a Stockist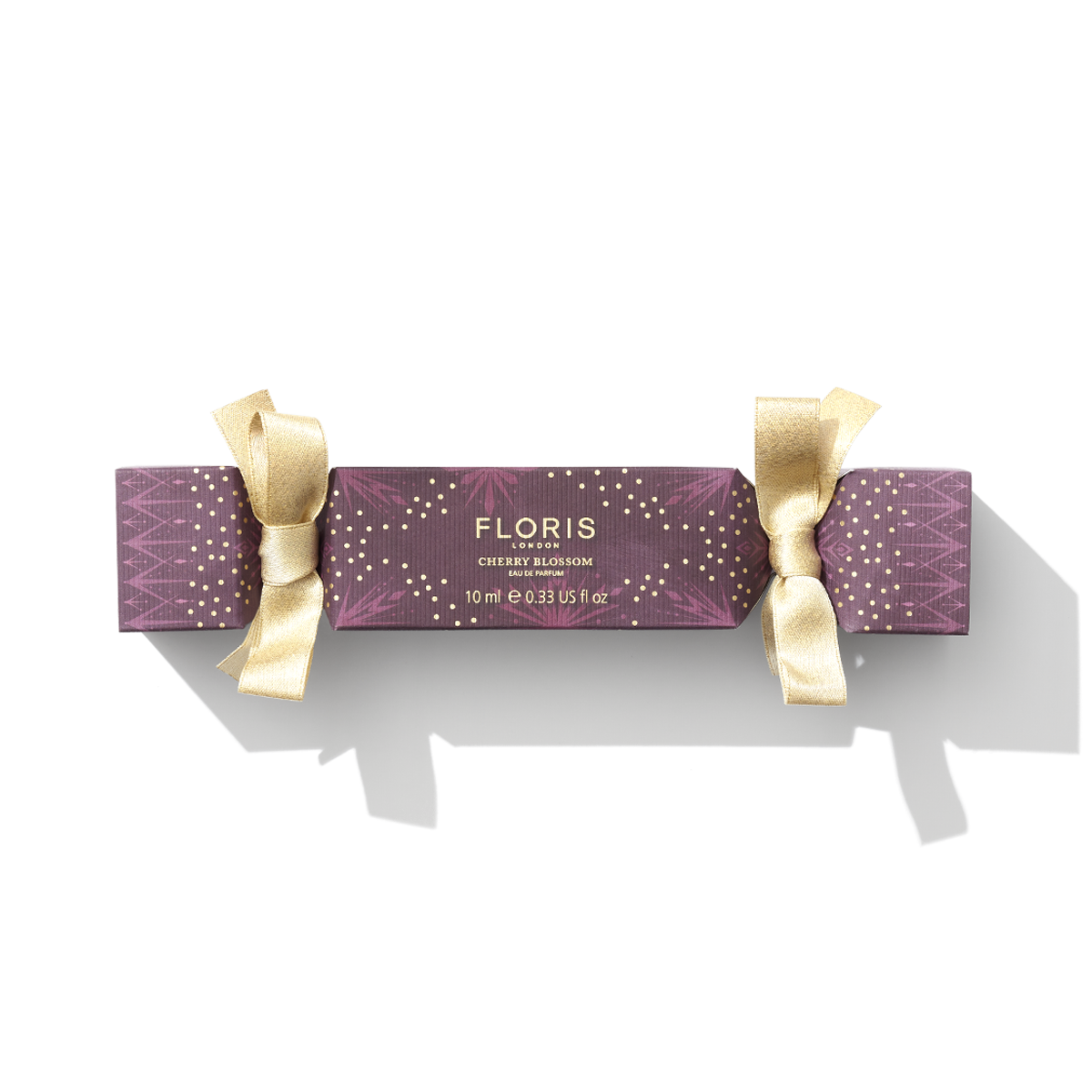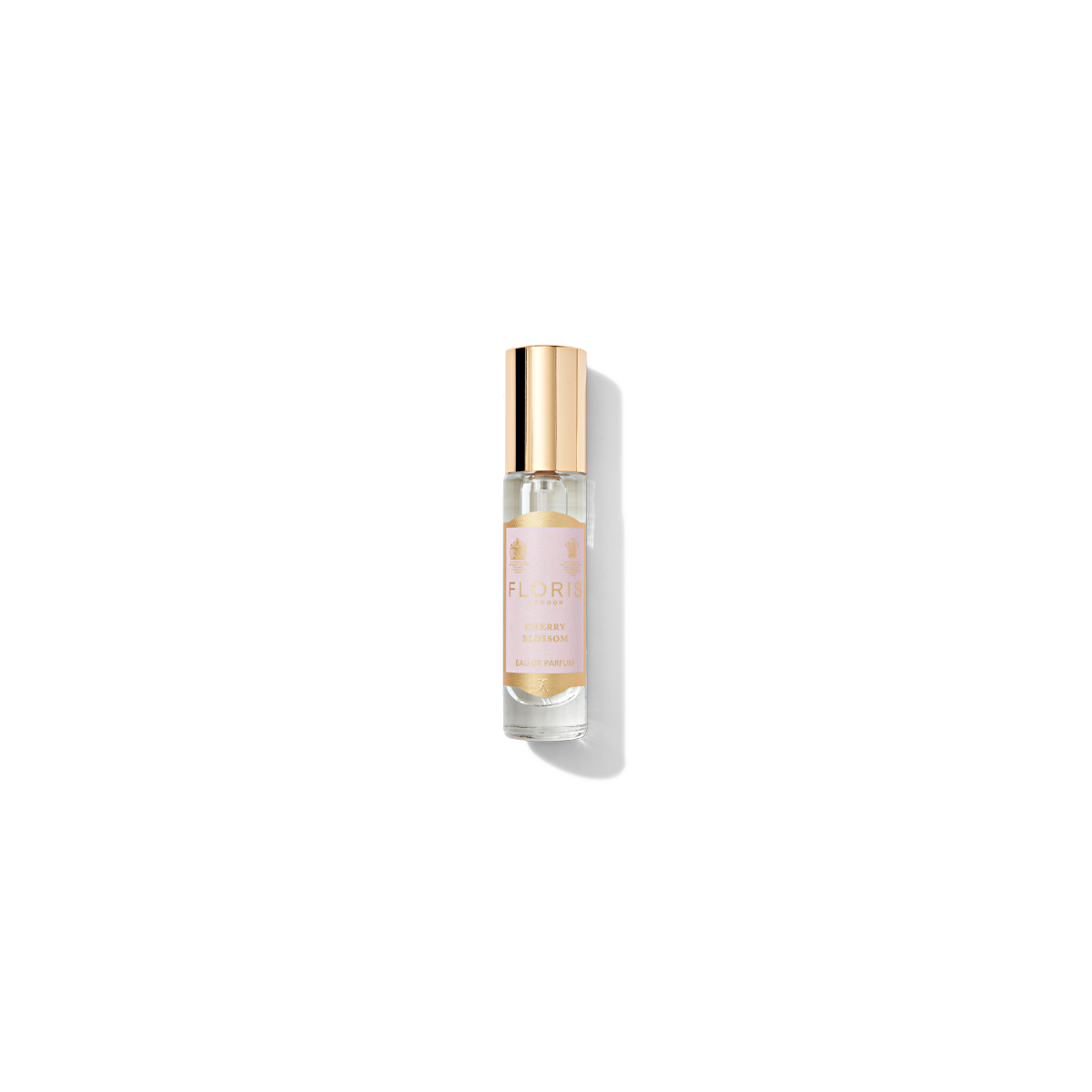 Feast in the luxury of the Cherry Blossom Holiday cracker. Cherry Blossom Eau de Parfum is an expression of natural beauty and evokes thoughts of spring. The heart reveals the delicate notes of cherry blossom. This is imbued with osmanthus, peony, rose and ripe cherries. The softness of blossom petals is conveyed through sensual musk and sandalwood notes in the base.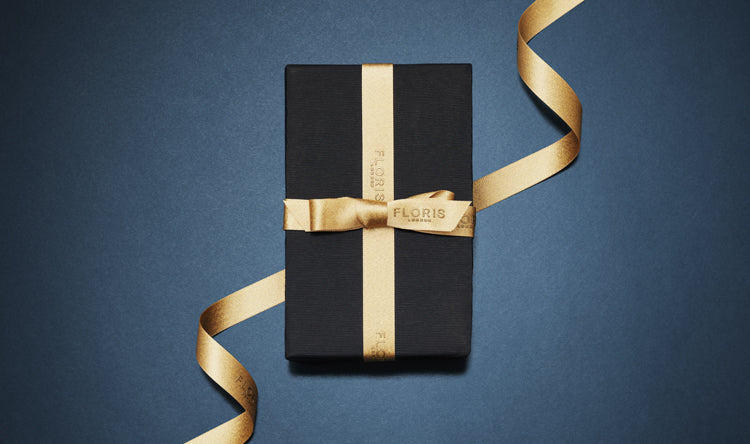 fragrance notes
Bergamot | Orange | Pink Peppercorn
Cherry Blossom | Osmanthus | Peony | Rose | Cherry
Spark a beautiful memory, crossing arms with the loved ones next to us and breaking open holiday crackers, gleefully sharing in olfactory sensations. Original designed by Tom Smith in 1845 and passed down through generations, Floris is keeping the tradition alive with a glittering collection of crackers designed with a scent for everyone at the table in mind.

Gift an individual cracker or send the ultimate luxury and gift The Holiday Cracker Collection, including all three of this year's crackers.
{"id":6678314549344,"title":"Holiday Cracker Collection","handle":"holiday-cracker-collection","description":"\u003cdiv style=\"text-align: center;\"\u003e\u003cspan data-mce-fragment=\"1\"\u003eBring a bit of British tradition to your celebrations this holiday season with a stunning holiday cracker.\u003c\/span\u003e\u003c\/div\u003e","published_at":"2023-10-16T08:04:39+01:00","created_at":"2023-09-13T10:07:15+01:00","vendor":"Floris London","type":"Christmas Cracker","tags":[],"price":9000,"price_min":9000,"price_max":9000,"available":true,"price_varies":false,"compare_at_price":null,"compare_at_price_min":0,"compare_at_price_max":0,"compare_at_price_varies":false,"variants":[{"id":39813204607072,"title":"3 x 10ml","option1":"3 x 10ml","option2":null,"option3":null,"sku":"00723","requires_shipping":true,"taxable":true,"featured_image":null,"available":true,"name":"Holiday Cracker Collection - 3 x 10ml","public_title":"3 x 10ml","options":["3 x 10ml"],"price":9000,"weight":440,"compare_at_price":null,"inventory_management":"shopify","barcode":"886266007232","requires_selling_plan":false,"selling_plan_allocations":[],"quantity_rule":{"min":1,"max":null,"increment":1}}],"images":["\/\/www.florislondon.com\/cdn\/shop\/files\/FlorisLondonHoliday2023HolidayCrackerCollectionBoxOpen.png?v=1696255663","\/\/www.florislondon.com\/cdn\/shop\/files\/FlorisLondonHoliday2023HolidayCrackerCollectionBoxClosed.png?v=1696255667","\/\/www.florislondon.com\/cdn\/shop\/files\/FlorisLondonHoliday2023HolidayCrackerCollection10mls.png?v=1696255670"],"featured_image":"\/\/www.florislondon.com\/cdn\/shop\/files\/FlorisLondonHoliday2023HolidayCrackerCollectionBoxOpen.png?v=1696255663","options":["Size"],"media":[{"alt":"three different coloured crackers inside an open box","id":21850453213280,"position":1,"preview_image":{"aspect_ratio":1.0,"height":1200,"width":1200,"src":"\/\/www.florislondon.com\/cdn\/shop\/files\/FlorisLondonHoliday2023HolidayCrackerCollectionBoxOpen.png?v=1696255663"},"aspect_ratio":1.0,"height":1200,"media_type":"image","src":"\/\/www.florislondon.com\/cdn\/shop\/files\/FlorisLondonHoliday2023HolidayCrackerCollectionBoxOpen.png?v=1696255663","width":1200},{"alt":"A blue box with sleeve on, it has holiday cracker collection on it","id":21850453278816,"position":2,"preview_image":{"aspect_ratio":1.0,"height":1200,"width":1200,"src":"\/\/www.florislondon.com\/cdn\/shop\/files\/FlorisLondonHoliday2023HolidayCrackerCollectionBoxClosed.png?v=1696255667"},"aspect_ratio":1.0,"height":1200,"media_type":"image","src":"\/\/www.florislondon.com\/cdn\/shop\/files\/FlorisLondonHoliday2023HolidayCrackerCollectionBoxClosed.png?v=1696255667","width":1200},{"alt":"three 10ml bottles in a row by floris","id":21850453344352,"position":3,"preview_image":{"aspect_ratio":1.0,"height":1200,"width":1200,"src":"\/\/www.florislondon.com\/cdn\/shop\/files\/FlorisLondonHoliday2023HolidayCrackerCollection10mls.png?v=1696255670"},"aspect_ratio":1.0,"height":1200,"media_type":"image","src":"\/\/www.florislondon.com\/cdn\/shop\/files\/FlorisLondonHoliday2023HolidayCrackerCollection10mls.png?v=1696255670","width":1200}],"requires_selling_plan":false,"selling_plan_groups":[],"content":"\u003cdiv style=\"text-align: center;\"\u003e\u003cspan data-mce-fragment=\"1\"\u003eBring a bit of British tradition to your celebrations this holiday season with a stunning holiday cracker.\u003c\/span\u003e\u003c\/div\u003e"}

Christmas cracker

3 x 10ml |

Regular price

Sale price

£90.00

Unit price

per

Bring a bit of British tradition to your celebrations this holiday season with a stunning holiday cracker

{"id":6678314778720,"title":"Honey Oud Holiday Cracker","handle":"honey-oud-holiday-cracker","description":"\u003cdiv style=\"text-align: center;\"\u003e\u003cspan data-mce-fragment=\"1\"\u003eBring a bit of British tradition to your celebrations this holiday season with a stunning holiday cracker.\u003c\/span\u003e\u003c\/div\u003e","published_at":"2023-10-16T08:03:29+01:00","created_at":"2023-09-13T10:13:40+01:00","vendor":"Floris London","type":"Christmas Cracker","tags":[],"price":3000,"price_min":3000,"price_max":3000,"available":true,"price_varies":false,"compare_at_price":null,"compare_at_price_min":0,"compare_at_price_max":0,"compare_at_price_varies":false,"variants":[{"id":39813198053472,"title":"1 x 10ml","option1":"1 x 10ml","option2":null,"option3":null,"sku":"47023","requires_shipping":true,"taxable":true,"featured_image":null,"available":true,"name":"Honey Oud Holiday Cracker - 1 x 10ml","public_title":"1 x 10ml","options":["1 x 10ml"],"price":3000,"weight":610,"compare_at_price":null,"inventory_management":"shopify","barcode":"886266470234","requires_selling_plan":false,"selling_plan_allocations":[],"quantity_rule":{"min":1,"max":null,"increment":1}}],"images":["\/\/www.florislondon.com\/cdn\/shop\/files\/FlorisLondonHoliday2023HolidayCrackerHoneyOud.png?v=1696255315","\/\/www.florislondon.com\/cdn\/shop\/files\/FlorisLondonHoliday2023HolidayCrackerHoneyOud10ml.png?v=1696255316"],"featured_image":"\/\/www.florislondon.com\/cdn\/shop\/files\/FlorisLondonHoliday2023HolidayCrackerHoneyOud.png?v=1696255315","options":["Size"],"media":[{"alt":"Blue cracker with golden ribbon wrapped around it, the fragrance shows 'Honey Oud'","id":21850449182816,"position":1,"preview_image":{"aspect_ratio":1.0,"height":1200,"width":1200,"src":"\/\/www.florislondon.com\/cdn\/shop\/files\/FlorisLondonHoliday2023HolidayCrackerHoneyOud.png?v=1696255315"},"aspect_ratio":1.0,"height":1200,"media_type":"image","src":"\/\/www.florislondon.com\/cdn\/shop\/files\/FlorisLondonHoliday2023HolidayCrackerHoneyOud.png?v=1696255315","width":1200},{"alt":"one 10ml bottle of Honey Oud from Floris","id":21850449215584,"position":2,"preview_image":{"aspect_ratio":1.0,"height":1200,"width":1200,"src":"\/\/www.florislondon.com\/cdn\/shop\/files\/FlorisLondonHoliday2023HolidayCrackerHoneyOud10ml.png?v=1696255316"},"aspect_ratio":1.0,"height":1200,"media_type":"image","src":"\/\/www.florislondon.com\/cdn\/shop\/files\/FlorisLondonHoliday2023HolidayCrackerHoneyOud10ml.png?v=1696255316","width":1200}],"requires_selling_plan":false,"selling_plan_groups":[],"content":"\u003cdiv style=\"text-align: center;\"\u003e\u003cspan data-mce-fragment=\"1\"\u003eBring a bit of British tradition to your celebrations this holiday season with a stunning holiday cracker.\u003c\/span\u003e\u003c\/div\u003e"}

Christmas cracker

1 x 10ml |

Regular price

Sale price

£30.00

Unit price

per

Bring a bit of British tradition to your celebrations this holiday season with a stunning holiday cracker

{"id":6678314811488,"title":"Mulberry Fig Holiday Cracker","handle":"mulberry-fig-holiday-cracker","description":"\u003cdiv style=\"text-align: center;\"\u003e\u003cspan data-mce-fragment=\"1\"\u003eBring a bit of British tradition to your celebrations this holiday season with a stunning holiday cracker.\u003c\/span\u003e\u003c\/div\u003e","published_at":"2023-10-16T08:03:12+01:00","created_at":"2023-09-13T10:14:15+01:00","vendor":"Floris London","type":"Christmas Cracker","tags":[],"price":3000,"price_min":3000,"price_max":3000,"available":true,"price_varies":false,"compare_at_price":null,"compare_at_price_min":0,"compare_at_price_max":0,"compare_at_price_varies":false,"variants":[{"id":39813197627488,"title":"1 x 10ml","option1":"1 x 10ml","option2":null,"option3":null,"sku":"79023","requires_shipping":true,"taxable":true,"featured_image":null,"available":true,"name":"Mulberry Fig Holiday Cracker - 1 x 10ml","public_title":"1 x 10ml","options":["1 x 10ml"],"price":3000,"weight":610,"compare_at_price":null,"inventory_management":"shopify","barcode":"886266790233","requires_selling_plan":false,"selling_plan_allocations":[],"quantity_rule":{"min":1,"max":null,"increment":1}}],"images":["\/\/www.florislondon.com\/cdn\/shop\/files\/FlorisLondonHoliday2023HolidayCrackerMulberryFig.png?v=1696255219","\/\/www.florislondon.com\/cdn\/shop\/files\/FlorisLondonHoliday2023HolidayCrackerMulberryFig10ml.png?v=1696255251"],"featured_image":"\/\/www.florislondon.com\/cdn\/shop\/files\/FlorisLondonHoliday2023HolidayCrackerMulberryFig.png?v=1696255219","options":["Size"],"media":[{"alt":"A blue festive cracker with gold ribbon tied around it","id":21850448658528,"position":1,"preview_image":{"aspect_ratio":1.0,"height":1200,"width":1200,"src":"\/\/www.florislondon.com\/cdn\/shop\/files\/FlorisLondonHoliday2023HolidayCrackerMulberryFig.png?v=1696255219"},"aspect_ratio":1.0,"height":1200,"media_type":"image","src":"\/\/www.florislondon.com\/cdn\/shop\/files\/FlorisLondonHoliday2023HolidayCrackerMulberryFig.png?v=1696255219","width":1200},{"alt":"one 10ml bottle of Mulberry Fig, it has a green label wrapped around it","id":21850448986208,"position":2,"preview_image":{"aspect_ratio":1.0,"height":1200,"width":1200,"src":"\/\/www.florislondon.com\/cdn\/shop\/files\/FlorisLondonHoliday2023HolidayCrackerMulberryFig10ml.png?v=1696255251"},"aspect_ratio":1.0,"height":1200,"media_type":"image","src":"\/\/www.florislondon.com\/cdn\/shop\/files\/FlorisLondonHoliday2023HolidayCrackerMulberryFig10ml.png?v=1696255251","width":1200}],"requires_selling_plan":false,"selling_plan_groups":[],"content":"\u003cdiv style=\"text-align: center;\"\u003e\u003cspan data-mce-fragment=\"1\"\u003eBring a bit of British tradition to your celebrations this holiday season with a stunning holiday cracker.\u003c\/span\u003e\u003c\/div\u003e"}

Christmas cracker

1 x 10ml |

Regular price

Sale price

£30.00

Unit price

per

Bring a bit of British tradition to your celebrations this holiday season with a stunning holiday cracker
{"id":6678314549344,"title":"Holiday Cracker Collection","handle":"holiday-cracker-collection","description":"\u003cdiv style=\"text-align: center;\"\u003e\u003cspan data-mce-fragment=\"1\"\u003eBring a bit of British tradition to your celebrations this holiday season with a stunning holiday cracker.\u003c\/span\u003e\u003c\/div\u003e","published_at":"2023-10-16T08:04:39+01:00","created_at":"2023-09-13T10:07:15+01:00","vendor":"Floris London","type":"Christmas Cracker","tags":[],"price":9000,"price_min":9000,"price_max":9000,"available":true,"price_varies":false,"compare_at_price":null,"compare_at_price_min":0,"compare_at_price_max":0,"compare_at_price_varies":false,"variants":[{"id":39813204607072,"title":"3 x 10ml","option1":"3 x 10ml","option2":null,"option3":null,"sku":"00723","requires_shipping":true,"taxable":true,"featured_image":null,"available":true,"name":"Holiday Cracker Collection - 3 x 10ml","public_title":"3 x 10ml","options":["3 x 10ml"],"price":9000,"weight":440,"compare_at_price":null,"inventory_management":"shopify","barcode":"886266007232","requires_selling_plan":false,"selling_plan_allocations":[],"quantity_rule":{"min":1,"max":null,"increment":1}}],"images":["\/\/www.florislondon.com\/cdn\/shop\/files\/FlorisLondonHoliday2023HolidayCrackerCollectionBoxOpen.png?v=1696255663","\/\/www.florislondon.com\/cdn\/shop\/files\/FlorisLondonHoliday2023HolidayCrackerCollectionBoxClosed.png?v=1696255667","\/\/www.florislondon.com\/cdn\/shop\/files\/FlorisLondonHoliday2023HolidayCrackerCollection10mls.png?v=1696255670"],"featured_image":"\/\/www.florislondon.com\/cdn\/shop\/files\/FlorisLondonHoliday2023HolidayCrackerCollectionBoxOpen.png?v=1696255663","options":["Size"],"media":[{"alt":"three different coloured crackers inside an open box","id":21850453213280,"position":1,"preview_image":{"aspect_ratio":1.0,"height":1200,"width":1200,"src":"\/\/www.florislondon.com\/cdn\/shop\/files\/FlorisLondonHoliday2023HolidayCrackerCollectionBoxOpen.png?v=1696255663"},"aspect_ratio":1.0,"height":1200,"media_type":"image","src":"\/\/www.florislondon.com\/cdn\/shop\/files\/FlorisLondonHoliday2023HolidayCrackerCollectionBoxOpen.png?v=1696255663","width":1200},{"alt":"A blue box with sleeve on, it has holiday cracker collection on it","id":21850453278816,"position":2,"preview_image":{"aspect_ratio":1.0,"height":1200,"width":1200,"src":"\/\/www.florislondon.com\/cdn\/shop\/files\/FlorisLondonHoliday2023HolidayCrackerCollectionBoxClosed.png?v=1696255667"},"aspect_ratio":1.0,"height":1200,"media_type":"image","src":"\/\/www.florislondon.com\/cdn\/shop\/files\/FlorisLondonHoliday2023HolidayCrackerCollectionBoxClosed.png?v=1696255667","width":1200},{"alt":"three 10ml bottles in a row by floris","id":21850453344352,"position":3,"preview_image":{"aspect_ratio":1.0,"height":1200,"width":1200,"src":"\/\/www.florislondon.com\/cdn\/shop\/files\/FlorisLondonHoliday2023HolidayCrackerCollection10mls.png?v=1696255670"},"aspect_ratio":1.0,"height":1200,"media_type":"image","src":"\/\/www.florislondon.com\/cdn\/shop\/files\/FlorisLondonHoliday2023HolidayCrackerCollection10mls.png?v=1696255670","width":1200}],"requires_selling_plan":false,"selling_plan_groups":[],"content":"\u003cdiv style=\"text-align: center;\"\u003e\u003cspan data-mce-fragment=\"1\"\u003eBring a bit of British tradition to your celebrations this holiday season with a stunning holiday cracker.\u003c\/span\u003e\u003c\/div\u003e"}

Christmas cracker

3 x 10ml |

Regular price

Sale price

£90.00

Unit price

per

Bring a bit of British tradition to your celebrations this holiday season with a stunning holiday cracker

{"id":6678314680416,"title":"Cherry Blossom Holiday Cracker","handle":"cherry-blossom-holiday-cracker","description":"\u003cdiv style=\"text-align: center;\"\u003e\u003cspan data-mce-fragment=\"1\"\u003eBring a bit of British tradition to your celebrations this holiday season with a stunning holiday cracker.\u003c\/span\u003e\u003c\/div\u003e","published_at":"2023-10-16T08:03:55+01:00","created_at":"2023-09-13T10:10:38+01:00","vendor":"Floris London","type":"Christmas Cracker","tags":[],"price":3000,"price_min":3000,"price_max":3000,"available":true,"price_varies":false,"compare_at_price":null,"compare_at_price_min":0,"compare_at_price_max":0,"compare_at_price_varies":false,"variants":[{"id":39813200576608,"title":"1 x 10ml","option1":"1 x 10ml","option2":null,"option3":null,"sku":"37023","requires_shipping":true,"taxable":true,"featured_image":null,"available":true,"name":"Cherry Blossom Holiday Cracker - 1 x 10ml","public_title":"1 x 10ml","options":["1 x 10ml"],"price":3000,"weight":610,"compare_at_price":null,"inventory_management":"shopify","barcode":"886266370237","requires_selling_plan":false,"selling_plan_allocations":[],"quantity_rule":{"min":1,"max":null,"increment":1}}],"images":["\/\/www.florislondon.com\/cdn\/shop\/files\/FlorisLondonHoliday2023HolidayCrackerCherryBlossom.png?v=1696255338","\/\/www.florislondon.com\/cdn\/shop\/files\/FlorisLondonHoliday2023HolidayCrackerCherryBlossom10ml.png?v=1696255340"],"featured_image":"\/\/www.florislondon.com\/cdn\/shop\/files\/FlorisLondonHoliday2023HolidayCrackerCherryBlossom.png?v=1696255338","options":["Size"],"media":[{"alt":"Red cracker with golden ribbon wrapped around it, the cracker says Cherry Blossom on it","id":21850449248352,"position":1,"preview_image":{"aspect_ratio":1.0,"height":1200,"width":1200,"src":"\/\/www.florislondon.com\/cdn\/shop\/files\/FlorisLondonHoliday2023HolidayCrackerCherryBlossom.png?v=1696255338"},"aspect_ratio":1.0,"height":1200,"media_type":"image","src":"\/\/www.florislondon.com\/cdn\/shop\/files\/FlorisLondonHoliday2023HolidayCrackerCherryBlossom.png?v=1696255338","width":1200},{"alt":"one bottle of 10ml Cherry Blossom by Floris","id":21850449281120,"position":2,"preview_image":{"aspect_ratio":1.0,"height":1200,"width":1200,"src":"\/\/www.florislondon.com\/cdn\/shop\/files\/FlorisLondonHoliday2023HolidayCrackerCherryBlossom10ml.png?v=1696255340"},"aspect_ratio":1.0,"height":1200,"media_type":"image","src":"\/\/www.florislondon.com\/cdn\/shop\/files\/FlorisLondonHoliday2023HolidayCrackerCherryBlossom10ml.png?v=1696255340","width":1200}],"requires_selling_plan":false,"selling_plan_groups":[],"content":"\u003cdiv style=\"text-align: center;\"\u003e\u003cspan data-mce-fragment=\"1\"\u003eBring a bit of British tradition to your celebrations this holiday season with a stunning holiday cracker.\u003c\/span\u003e\u003c\/div\u003e"}

Christmas cracker

1 x 10ml |

Regular price

Sale price

£30.00

Unit price

per

Bring a bit of British tradition to your celebrations this holiday season with a stunning holiday cracker

{"id":6678314582112,"title":"Miniature Candle Collection","handle":"miniature-candle-collection","description":"\u003cdiv style=\"text-align: center;\"\u003e\u003cspan data-mce-fragment=\"1\"\u003eThree miniature beautifully scented candles.\u003c\/span\u003e\u003c\/div\u003e","published_at":"2023-10-16T08:04:28+01:00","created_at":"2023-09-13T10:07:55+01:00","vendor":"Floris London","type":"Candle Gift Set","tags":[],"price":8000,"price_min":8000,"price_max":8000,"available":true,"price_varies":false,"compare_at_price":null,"compare_at_price_min":0,"compare_at_price_max":0,"compare_at_price_varies":false,"variants":[{"id":39813203525728,"title":"3 x 70g","option1":"3 x 70g","option2":null,"option3":null,"sku":"00823","requires_shipping":true,"taxable":true,"featured_image":null,"available":true,"name":"Miniature Candle Collection - 3 x 70g","public_title":"3 x 70g","options":["3 x 70g"],"price":8000,"weight":720,"compare_at_price":null,"inventory_management":"shopify","barcode":"886266008239","requires_selling_plan":false,"selling_plan_allocations":[],"quantity_rule":{"min":1,"max":null,"increment":1}}],"images":["\/\/www.florislondon.com\/cdn\/shop\/files\/FlorisLondonHoliday2023MinituerCandleCollectionBoxOpen.png?v=1697024911","\/\/www.florislondon.com\/cdn\/shop\/files\/FlorisLondonHoliday2023MinituerCandleCollection.png?v=1697024911","\/\/www.florislondon.com\/cdn\/shop\/files\/FlorisLondonHoliday2023MinituerCandleCollectionV2.png?v=1696255632"],"featured_image":"\/\/www.florislondon.com\/cdn\/shop\/files\/FlorisLondonHoliday2023MinituerCandleCollectionBoxOpen.png?v=1697024911","options":["Size"],"media":[{"alt":"an aerial view of three small candles. they are different colours. ","id":21850452525152,"position":1,"preview_image":{"aspect_ratio":1.0,"height":1200,"width":1200,"src":"\/\/www.florislondon.com\/cdn\/shop\/files\/FlorisLondonHoliday2023MinituerCandleCollectionBoxOpen.png?v=1697024911"},"aspect_ratio":1.0,"height":1200,"media_type":"image","src":"\/\/www.florislondon.com\/cdn\/shop\/files\/FlorisLondonHoliday2023MinituerCandleCollectionBoxOpen.png?v=1697024911","width":1200},{"alt":"three miniature candles in a row, you can see the labels on the front","id":21850452623456,"position":2,"preview_image":{"aspect_ratio":1.0,"height":1200,"width":1200,"src":"\/\/www.florislondon.com\/cdn\/shop\/files\/FlorisLondonHoliday2023MinituerCandleCollection.png?v=1697024911"},"aspect_ratio":1.0,"height":1200,"media_type":"image","src":"\/\/www.florislondon.com\/cdn\/shop\/files\/FlorisLondonHoliday2023MinituerCandleCollection.png?v=1697024911","width":1200},{"alt":"aerial view of three miniature candles","id":21850452590688,"position":3,"preview_image":{"aspect_ratio":1.0,"height":1200,"width":1200,"src":"\/\/www.florislondon.com\/cdn\/shop\/files\/FlorisLondonHoliday2023MinituerCandleCollectionV2.png?v=1696255632"},"aspect_ratio":1.0,"height":1200,"media_type":"image","src":"\/\/www.florislondon.com\/cdn\/shop\/files\/FlorisLondonHoliday2023MinituerCandleCollectionV2.png?v=1696255632","width":1200}],"requires_selling_plan":false,"selling_plan_groups":[],"content":"\u003cdiv style=\"text-align: center;\"\u003e\u003cspan data-mce-fragment=\"1\"\u003eThree miniature beautifully scented candles.\u003c\/span\u003e\u003c\/div\u003e"}

Candle gift set

3 x 70g |

Regular price

Sale price

£80.00

Unit price

per

Three miniature beautifully scented candles